'Spirit of India' by Rebecca Campbell
In November 2017, Travels to my Elephant II by Elephant Family & Quintessentially Foundation saw 85 intrepid adventurers race 500km across Rajasthan, in aid of endangered wild elephants.
This epic journey fired the imagination of fellow racer and long-time Elephant Family supporter Rebecca Campbell to produce an exclusive collection inspired by the imagery and vivid scenes of India. Taking place on 22nd November 2018, at Robilant + Voena, Mayfair, each of Rebecca's stunning pieces will be for sale to benefit Elephant Family, with a preview event reuniting Elephant Family supporters, art lovers and Travels to my Elephant racers from the epic adventures in 2015 and 2017.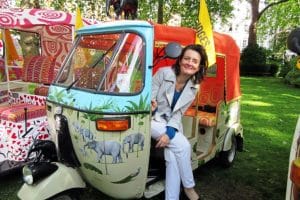 "What an adventure! This epic road trip in a variety of different vehicles, my inspiration came from peeking out from the back of a jeep as we travelled from Jodhpur to Jaipur across the deserts and plains of Rajasthan seeing the arid landscape punctuated by blasts of colour, from women carrying water jugs on the head in their brightly coloured saris; the amazingly decorated lorries, (artworks in themselves) and the blue city amongst other things.
I have been to India before and fell under its spell. Some of the other paintings in the collection reflect this, including when I saw elephants meandering through the tea plantations."
Rebecca Campbell is an artist living and working in London. Her paintings have been described as delightful, enigmatic and highly imaginative, underpinned by a quirky sense of humour. Rebecca's distinctive narrative style is influenced by an Irish country childhood, extensive travelling and a love of Mughal miniatures, with their rich earth colours and bold designs. She shows with Jonathan Cooper in London, as well as internationally.
For more details on sales & artworks, contact nieta@elephant-family.org or call 0207 251 5099
Showing 1–9 of 26 results